Projects Overview
The World of HOOD is an expansive, transmedia world spanning audio, visual, and written fiction. Check out the introductions to our different projects below and follow the links to their landing pages for more info.
The Core Project – HOOD TV Series
In an England already ravaged by Climate Change, returning soldier Robyn Loxley must battle her demons – both personal and mystical – to save her people from the brutal, divided society controlled by King John and her estranged half-sister – the Sheriff of Nottingham and Marian's new girlfriend… READ MORE
We've created a series of seven "character idents" to introduce the world to the main characters in the future television show. Check out the videos and don't forget to stop by the wiki to read their bios if you want to dive even deeper into Robyn of Loxley, her sister the Sheriff of Nottingham, more!
WATCH MORE. You can also check out the overview of the HOOD show.
Nottingham News
Welcome to East Mercia's #1 news program, bringing you highlights of the week's top stories from the parallel Nottingham in the World of HOOD. With your host, Lenka DeVor, get the skinny on the latest scandals, updates on the attacks by the terrorist Will Scarlett, news about how the Inner and Outer Circles live, and more! WATCH MORE
Outlaw Radio
The "official story" is far from the whole truth, so Will Scarlett and fellow rebel Bucky will also be adding counterpoints and sharing what life is like in the Outer Circle. LISTEN MORE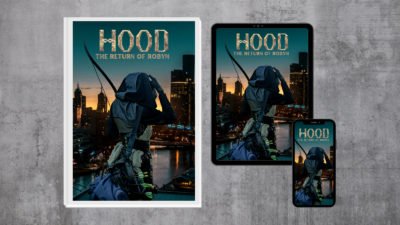 HOOD: The Return of Robyn
We've also got a series of novels coming your way! Five members of the Quivalon team have been hard at work creating this epic tale, which will serve as the basis for the first season of the HOOD TV series. FIND OUT MORE