HOOD Television Series
"Now more than ever, the people of Nottingham need their champion."
In an England already ravaged by Climate Change, returning soldier Robyn Loxley must battle her demons – both personal and mystical – to save her people from the brutal, divided society controlled by King John and her estranged half-sister – the Sheriff of Nottingham and Marian's new girlfriend.
Inspired by the well-known Robin Hood legend, HOOD is set in a contemporary, alternative world where magic exists, technology is similar to our own, and climate change has already caused catastrophic food shortages and social upheaval. HOOD is not a typical action-adventure story. Yes, there will be big storylines and action scenes, but at its heart, it will be a character-driven show.
Though the main goal of this project is to entertain, many of the issues that drive the story and helped to shape the world of HOOD are deeply relevant to today. The ravages of climate change and problems surrounding wealth disparity are at the forefront of our minds. At the same time, HOOD also shows us a historically matriarchal world where there is now no discrimination based on gender or sexual identity.
We offer rich, fully realised female characters in a cultural landscape that demands more representation for women outside of stereotypes. Like Killing Eve, the characters have grey morality – there are no "villains" and "heroes" in HOOD, just people trying to do what they believe is right. Like the BBC's Sherlock, we are updating a beloved, classic tale but we mix it with the epic scale of Game of Thrones' family drama.
---
The World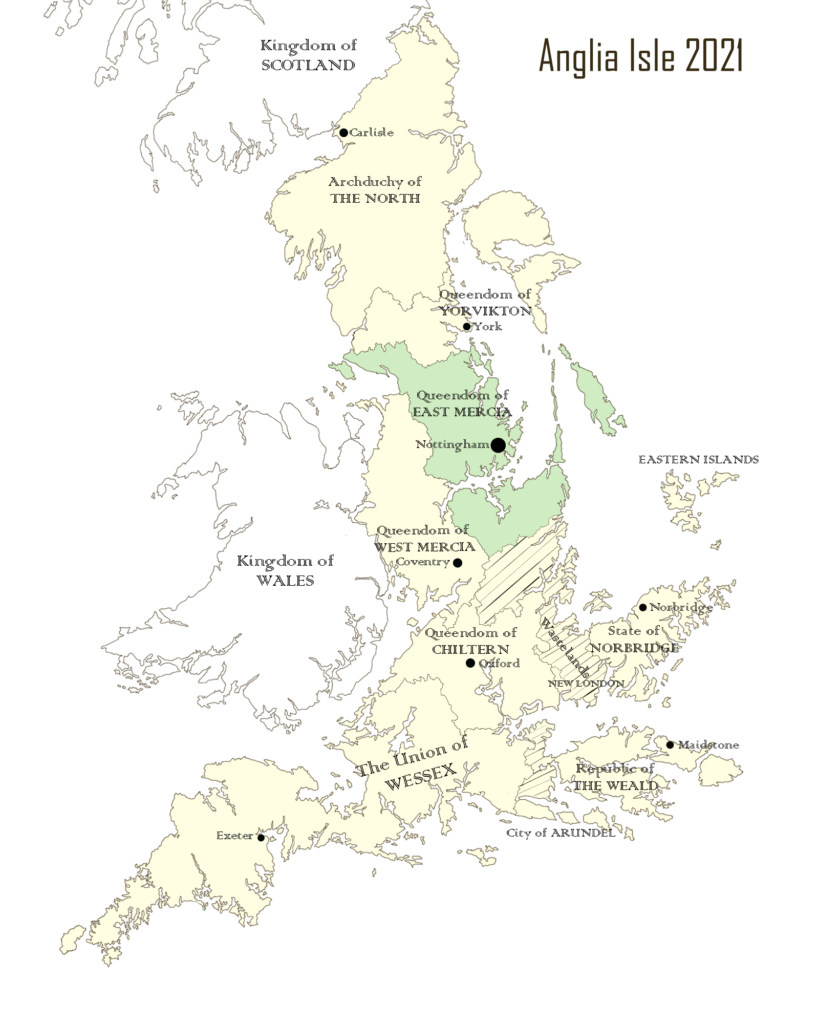 The Britain we know was never created. In the HOOD timeline, after the Clash of the Cousins war for the throne in the 12th Century, England was divided into twelve countries on the now renamed Anglia Isle.
Their society is inclusive, with no discrimination against race, gender or sexuality. However, it retains medieval influences with little democracy, corporal punishment, and public executions.
Magic exists and flourishes as a religion, Hycathism. Only women have magical powers and these Hycathae help advance technology more quickly than in our reality. But advanced technology led to advanced climate change and, a century ago, sea-level rise flooded much of the landmass.
Blamed for the flood, the Hycathae fled to the deserts of Northern Africa. With the help of their magic, they created The Promised Land, a vast, fertile oasis where they developed seeds that can grow in seawater – essential in this now famine-stricken world.
---
The Story
King Richard's war to claim the seeds that could save his starving people ended in disaster. General Robyn Loxley returns without him years later, carrying the seeds her country needs to survive. But the world has changed in her absence. King John usurped the throne from Marian, and under his heartless rule the rich luxuriate inside a walled Inner Circle, while everyone else survives however they can. Will Scarlett is leading a rebellion, seen as a freedom fighter by the poor but a terrorist by the rich.
When Robyn tries to put matters right, she is thwarted by King John and his Sheriff, who confiscate the seeds and put Robyn on trial as a traitor for abandoning King Richard. With the help of a girl with magical powers, Robyn undermines their show trial and exposes the truth.
However, King John is not giving up his power so easily. He and the Sheriff believe it's impossible to save everyone, whereas Robyn refuses to lose a single person. But as the conflict grows, Robyn struggles not to succumb to the terrible magical entity that haunts her.
Hidden agendas, unlikely alliances, supernatural forces, and family drama weave in and out of this reimagining of Robin Hood and his famous band of outlaws.
---
Want to know more? Interested in becoming involved? E-mail us at creative@quivalon.com.