Crowdfunding Campaign
On this website you can pay through a payment request by Paypal, Direct bank or Betaalverzoek (Dutch Market) in the currencies British Pounds, Euros and US dollars.
Start goal: £4,500
Ultimate goal: £16,500
Raised
£1410
Ends November 30
Story
In an alternate timeline reshaped by magic, Robyn Loxley must battle her demons – both personal and mystical – when she returns to her climate-ravaged homeland to find her people oppressed by a heartless king and her lover in the arms of her sister, the Sheriff of Nottingham.
The Quivalon team introduced you to the amazing characters of HOOD during our last campaign. Now, we're back and hungry to show you more of what we can do.
Our first goal is to shoot key visuals from the story to create a dynamic video to help us pitch the television show to production companies. Then with each stretch goal, we'll build our way to an entire short film that will give a condensed version of events and teasers from the first season.
And YOU wonderful backers will get the opportunity to see EVERYTHING before anyone else!
A full description of the short film and rewards are below, but first…
HOOD is inspired by the well-known legend of Robin Hood, but set in a parallel timeline where modern technology and magic exist side by side.
Climate change has already devastated the world, but Robyn has a solution to the food shortages. When she returns home from the war, she finds a city divided under a cruel leader who coerced her ex, Marian, into abdicating the throne. Robyn is carrying mystical seeds that are the answer to the food crisis, but only if King John doesn't get in her way…
This world is both gentler and harsher than our own. There is total equality between genders, sexualities, and races, but also an enormous gap between the rich and the poor that threatens the stability of the land.
We are dedicated to bringing this story and its themes to the screen, and creating these videos is the next step. But we can't do it without generous backers like you.
Short Film Summary And Stretch Goals
First, a quick note on our estimated delivery dates. We have a shooting window set for February 2023, which gives us time to find the right locations and costumes before the shoot. Thanks for your patience.
Stage 1 (Campaign minimum)
Robyn returns to her homeland with a mysterious stranger and magic-imbued seeds that promise to end the food shortages in Nottingham. But her sister the Sheriff and the usurper King John won't let her take all the glory. After some scuffles, Robyn and the king attempt to find a compromise, but a rebel attack threatens both their lives…

Stage 2 – Stretch Goal £7000 
While the rebels celebrate, everyone else is reeling in the wake of the attack. Robyn needs allies, so she goes to her ex, Marian, the rightful heir to the throne of East Mercia. When she finds Marian in the arms of her sister, Robyn decides to join forces with the rebels…

Stage 3 – Stretch Goal £11000
Robyn makes her appeal to rebel leader Will Scarlett. He isn't keen to ally himself with a member of the nobility, but when the Sheriff and her SWAT team arrive, they have no choice but to band together.  Despite their best efforts, they are captured. King John confronts Will, while the mystical forces working against Robyn rear their ugly head…

Stage 4 – Stretch Goal £13500
Scenes spent in the rebel camp get extended, enriching the story and dialling up the action.
Stage 5 – Stretch Goal £16500
Everything gets bigger and better, including more special effects, bespoke costumes, and cooler locations!
Where Does the Money Go?
The majority of the money will go toward location rental and costumes, followed by paying the actors and crew, and also feeding everyone (including many extra volunteers) during the shoot. About 10% of funds are reserved for boring stuff like taxes and Kickstarter fees, but you can just focus on the amazing short film we're going to make!
Look at all we've done so far in the World of HOOD!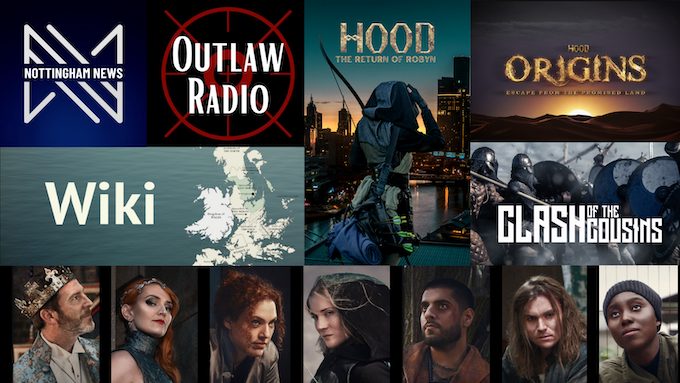 Quivalon is a female-led, collaborative enterprise made up of creative professionals that spans continents and multiple media. We came together because we believe in the themes of the story world and the characters who will bring them to life. To date, over 70 people have contributed their time and energy – free of charge – to create our content. But we can't take the next steps to get our television series off the ground without YOU!
Starting at £10…
You get early access to our finished scenes and exclusive behind-the-scenes pics, videos and more.  (Join the Rebellion tier)
For just £15…
Have a chance to help steer the project by giving feedback on the first chunk of our in-progress Return of Robyn novel. Your opinion counts! (Put your oar in tier)
Or early access to Origins: Escape from the Promised Land audio drama. Join Robyn and Ewan on their travels from Africa to the Anglia Isle over 8 episodes that take you deeper into the characters and world of HOOD. (Hear the Origins tier)

For just £25…
You'll get an exclusive look at the scripts, additional pictures from the shoot, stories from set, and more in a handy PDF (Peek Behind the Curtain tier)
Or you can secure your advance copy of the first Return of Robyn novel. (Read the Return tier)

For just £35…
Get a personalised thank you video from a member of the cast! (Bathe in Gratitude tier)
Or have your name sung in a medieval-style ballad (Become Immortalised tier)
Or officially join the ranks of East Mercia's elite by getting a certificate of nobility complete with family history. (Join the Nobility tier)
Why only choose one? (£60 & £100)
Create your own bundle of goodies by choosing between items at lower tiers. (Build a Bundle tier,

£60

)
Get all the rewards from lower tiers (Mega Bundle Tier,

£100

)
Get an inside scoop for £150…
Watch the finished short film together with the cast & crew during our digital premiere party and get to know them and the story better during the Q&A session. (Join the Party tier)
But that's not all… (£250 & £350)
We are also offering set visits and lunch to a small number of backers. Fly solo (£250) or bring a friend (£350) for a half-day behind the scenes to see how the magic happens.  (Please note – Backers for the Behind-the-Scenes tiers must provide their own transportation to the shooting location, which will be somewhere in the London area. There are two possible shooting windows, Oct 2022 and Feb 2023, with exact dates being determined after the campaign is over.)

Add-ons
Can't choose? Not a problem… A selection of our rewards can be picked as an add-on:
£10 – Early access to HOOD Origins: Escape from the Promised Land

£10 – Early access and feedback opportunity on first 50+ pages of the novel (limited: 20)

£20 – Be one of the first to read The Return of Robyn Vol 1 (eBook)

£20 – Souvenir booklet full of scripts, stories from set and exclusive pictures

£30 – Personalised Thank you message from the cast (limited: 20)

£30 – Join the ranks of East Mercia's elite and claim a lady/lord title (limited: 20)

£30 – Get immortalised in a personal ballad (limited: 20)
Risks and challenges
Though Covid-19 has become easier to handle, it still remains a potential challenge for this shoot. This does mean it is difficult to be precise about when we could deliver rewards related to the shoot itself. So our delivery dates are set based on shooting Feb 2023, but it is possible we will be able to deliver some things earlier or later based on how things go.
Back this Project
Thank you so much to all of our amazing backers!